Read more...
Just landed! The exclusive limited edition Boba Fett Ranger and Unit watches. Only one of each left so hurry in today and don't miss out on yours or the that perfect Christmas gift for the die-hard fan in your life.
The mysterious Boba Fett is the most notorious bounty hunter in the galaxy. Well paid and highly sought after, this infamous mercenary scours the galaxy for profit and personal reward while leaving an indelible mark on all whom he encounters. Frequently employed by the crime lord Jabba the Hutt, Boba Fett is also commissioned by the Sith Lord Darth Vader. Fett is one of six bounty hunters hired to track down the smuggler-turned rebel Han Solo.
Custom Boba Fett seconds hand, Jaster Mereel insignia at 12 O'clock and maroon metallic anodized aluminum bezel inlay with orange Boba Fett kill stripe detailing.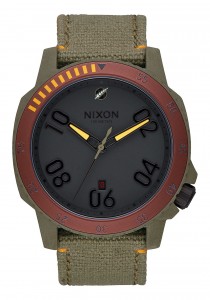 Custom maroon metallic anodized aluminum bezel inlay with orange printed Boba Fett kill stripe detailing, knurled pusher in Boba Fett colourblock and Mandolorian insignia